A History Of Birmingham Bowling
The first bowling house in Birmingham is somewhat of a mystery. As happens so many times, it depends on whom you ask. Some say there was a bowling house on 1st Avenue North near the Old Terminal Station; while others say the YMCA had the first, with either two or four bowling lanes located in the YMCA building.
It is agreed, however, that the first regularly used bowling center was opened in 1933 and known as The Phoenix Bowling Alley, located in the basement of the Phoenix Building at 1706 2nd Avenue North. It was a twelve- (12) lane house, owned and operated by Harry and Elizabeth Arnold. Its opening in 1933 coincided with the forming of the Greater Birmingham USBC Association. First officers of the association were V.G. Shields – President, Manual A. Ellis -Secretary, and F. J. Stanton – Treasurer, and the Executive Committee included Dr. N. C. Glass, Jr. and M. A. Moran. The Phoenix Bowling Alley remained in business until the Phoenix Building burned down.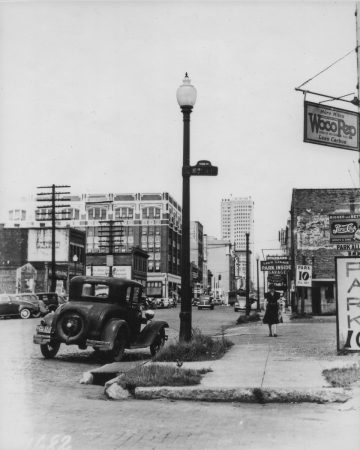 During the 1930's and until the war, Birmingham bowling, like most activities, was centralized in the downtown area – between 2nd and 5th Avenues North. Bowling Houses, in addition to Phoenix – in alphabetical order – were: Downtown (Birmingham) Bowling Lanes, Liberty Bowling Alley and Lucky Strike Lanes.
Bowling grew in popularity after World War II and continued to grow through the fifties, and with this popularity, came an increase in bowling alleys: Tarrant City (8 lanes), Fairfield (6 lanes), Woodlawn (8 lanes), lrondale (16 lanes), Five Points South (12 lanes), and Chapman Lanes, later to be known as LoMac Bowl (16 lanes). Chapman Lanes got its name from one of the proprietors, Ben Chapman – the great major league baseball player from Birmingham. Marvin Lowry (Lo) and Joe McCorvey (Mac) purchased Chapman Lanes, and the name was changed to LoMac Bowl. It was not long until small 6-12 lane houses gave way to the modern automated centers.
In the late 1950's and into the 1960's, came the introduction of today's modern Bowling Centers.  The first one to open in Birmingham was Holiday Bowl (32 lanes), followed by Bowl-O-Mac).   LoMac Bowl closed and the name was reversed for the new center to read BowLoMac), Eastwood Bowl Roebuck, Ensley, Homewood, Pine Bowl, Trussville (later Cahaba), Green Springs, Vestavia Lanes, Star Bowl, Honey Lanes, El Dorado (later Super Bowl) and Riverview Lanes. Over the years several bowling centers were closed for various reasons.
The last to close, after 42 years of service, was Eastwood Bowl In June of 2002. With the closing of Eastwood Bowl, five bowling centers remained operating in the Greater Birmingham area. They are Holiday Bowl (in Bessemer), Pine Bowl (in Fultondale), Super Bowl (in Center Point), Riverview Lanes (off Hwy 280) and Vestavia Bowl (in Vestavia).  Holiday Bowl and Pine Bowl have since closed their doors,
In the spring of 2004, two new bowling centers, Lightning Strikes Lanes (in Trussville) and Oak Mountain Lanes (in Pelham) joined the three existing centers. These five centers, with a combined total of 186 lanes, provide the 2100 plus ABC sanctioned bowlers and the general public of the Birmingham area with a wonderful opportunity to enjoy the sport of bowling.
The youth of Birmingham also enjoy the increased opportunity to participate with the introduction of many different league formats such as home school leagues and scholarship leagues.
In the age of gender equality, bowling continues to be one of the few sports where gender does not offer either sex an advantage, and with improved equipment (lanes, dressings, and bowling balls) plus creative owners and managers, our sport should enjoy increased popularity and growth in the coming years.